The Club fields two to three 7s sides each summer.  The top side competes in the regional National Qualifier Tournaments, and the second and third sides compete in TOLA and social tournaments.  The Club has also recently become affiliated with the start-up Dallas Tiger Rugby Academy.  If you want to play 7s, DRFC is the Club for you.
In addition to hosting the highly successful and anticipated annual Lone Star Classic each summer,  the Dallas Reds, in 2017, have capped off their most successful season in the clubs history with a TOLA championship and a Bowl Championship in the National Championship tournament.
Follow our calendar to determine our path to victory in 2018.
With returning coaches, Chris Howard and wife, Dr. Lynn Howard, and assistant, Cheese Russ, we already surpassed last years expectations and have qualified for the National Championships!  Further goals include us taking the Red River Conference title as well as the TOLA Championship (Texas, Oklahoma, Louisiana, and Arkansas), where we are currently in first place for 2018.  Here is some great information on the summer tournaments and rules.
The 2017 7s season had a record number of sponsors, CIPP'D players and tournament victories, a credit to the effort of everyone involved in the club. The club put in strong showings in every TOLA tournament, highlighted by a win in the Cherrybone 7s and second place finish in the Norman. The D1 side qualified for the National Championship as the top ranked team from the Red River Conference with victories in 2 of the 4 qualifying tournaments. The depth of talent and attitude of the players to improve each week meant they wouldn't be attending the USA wide National Championship tournament in Minneapolis just to make up the numbers. The squad drew the pool of death but were not out of place against eventual 3rd and 5th place finishers Washington Athletic and Old Blue NY respectively. Barely missing out on a spot in the Cup Championship, the Reds showed their class and went through day 2 undefeated to finish Bowl Champions and place 9th in the country!
Special thanks to 7s Head Coach Chris Howard, and his wife, Dr. Lynn Howard, for all their hard work and support over the 7s season. The club went from not qualifying for the National Championship tournament for the past 2 seasons to top 10 in the country and we cant wait to see how far Chris can take them next year! Thanks to all the players, other coaches, admins, support personnel, Old Boys, donors, fans and sponsors . . . in particular, our 7s Premier Sponsor, Crooked Fox Blended Bourbon Whiskey!!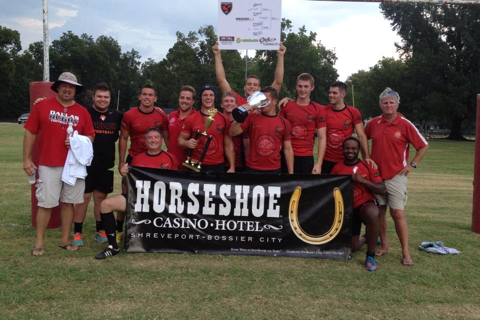 Other highlights include:
2017 USA Rugby 7s National Tournament – Bowl Champions (Minneapolis, MN)
2017 TOLA (Texas, Oklahoma, Louisiana, Arkansas) 7s Series Champions
2017 Red River Rugby Conference 7s Champions
2016 TOLA (Texas, Oklahoma, Louisiana, Arkansas) 7s Series Champions
2015 7s National Tournament Qualifiers
2015 TOLA Runners-Up
Bowl Finalists 2015 RRRC Norman Regional Qualifier
Bowl Champions 2015 RRRC Ft. Worth Regional Qualifier
Bowl Finalists 2015 Lone Star Classic Sevens
Plate Winners 2015 Horseshoe Casino Sevens
2014 TOLA Champions
Bowl Finalists 2014 Denton Sevens
Bowl Champions 2014 Lone Star Classic Sevens
Bowl Champions 2014 Mudfish Sevens
Plate Winners 2014 Horseshoe Casino Sevens
2013 TOLA Champions
Bowl Champions 2013 Horseshoe Casino Sevens
Bowl Champions 2013 Dallas Lone Star Classic Sevens
Bowl Finalists 2013 Woodlands RFC Cherrybone Sevens
2008 TOLA Champions
Second place in the 2008 Lone Star Classic
Bowl Finalists at the 2008 Bahamas Invitational Tournament
Bowl Champions at the 2008 Houston Sevens
Champions of the 2008 Horseshoe Casino Sevens
Winners of the 2007 Tornado Alley Sevens
Winners of the 2007 Zeekers Midnight Sevens
Runners up at the 2006 Parrotheads Tournament
If you are interested in playing Sevens for Dallas RFC, please contact Coaching Coordinator Jeff Kolberg (JDKolberg@gmail.com) and fill out form below!