Dallas RFC II Whip HARC II, 30 to 7

Two undefeated teams met last Saturday in windy Houston. Dallas RFC lead by winger Thomas Hever's THREE tries, whipped HARC 30 to7. Winger Dean Barry started the scoring, just 10 minutes into game, and Andrew Campisi's conversion was wide. Captain Gus Holt bullied his way in for a try at 23 minutes. HARC regrouped, and was able to put together several phases to score, and cut the lead to 10 – 7. After that it was all Reds, as Hever scored two more tries, and "Man of the Match" F/B Rob McDermott scored late in the match to cap the win.
Dallas II and Austin Blacks II are the only undefeated teams left in Division II.
Dallas RFC Thrash HARC , 70 – 20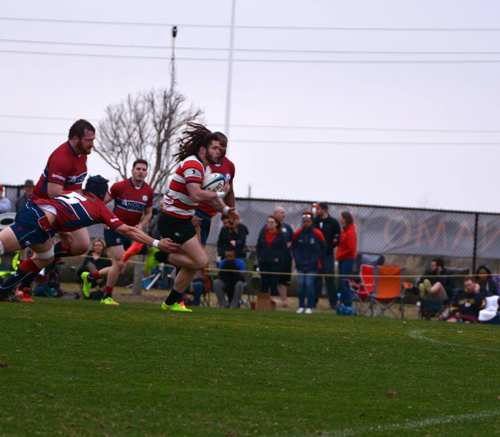 The D-1 match started with a "wakeup call", as HARC scored on the opening kickoff, just 1 minute into the match. That would be the last HARC lead, as the Reds secured bonus points before the break. Winger Jon Moore (Man of the Match) scored a hat-trick, with Conner Trathen, and Chad Joseph scoring two tries a piece, plus Kelly Kolberg, Capt. Michael Kenealy and Zack Klump adding to the try scoring total, in the win. Scrum 1/2 Phil Bolton kicked four conversions, and two PK's for s total of 14 points. Zack Klump also kicked three conversions.
Dallas RFC remains the only undefeated Club in the Red River Conference D-1 standings.